-This post may contain affiliate links-
I love fall, and one of my favorite fall decorations to make is pumpkins. I have made a lot of pumpkin crafts over the years that include everything from crocheted pumpkins in several varieties, to painted or sewn pumpkins, and more.
Last year I shared a tutorial for some crocheted pumpkins that I made using different textured crochet stitches. I really loved how they turned out, and that pattern opened up so many ideas and possibilities for different stitches I could use to create different textures on a crocheted pumpkin. I knew I wanted to revisit that idea this year and one of the stitches I thought would make a really cool pumpkin was the bobble stitch.
I decided against just doing solid rows of bobble stitch and instead alternated the bible stitch rows with rows of single crochet. This made the edges a little less bulky, and definitely saved on some yarn since the bobble stitch is a bit of a yarn eater. But I really just did it because I like the look of it. I feel like it kind of mimics the shape of a pumpkin with raised sections, and helps that stitch to really stand out.
I made the pumpkins in two different sizes, but the great thing about this kind of crochet pattern is that it is completely customizable. If you want to change up the size you can definitely play around with it and change it up. In fact, the green one I pretty much determined the size by working it until I was almost out of yarn and didn't feel like I had enough for another repeat.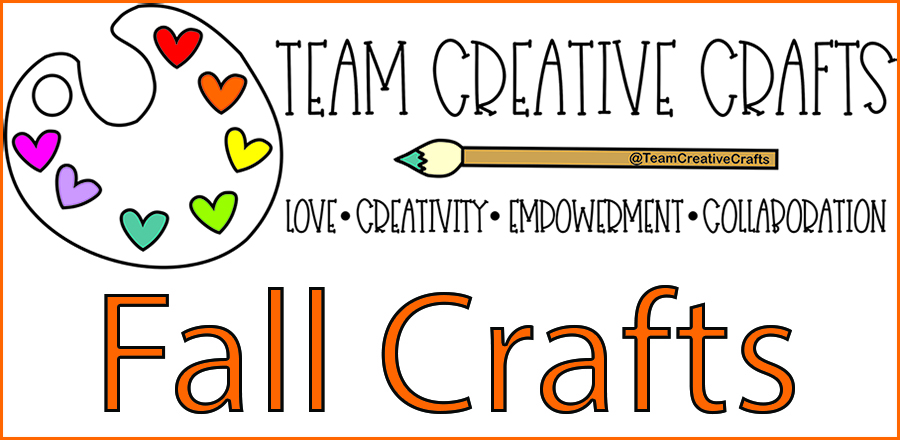 This project is part of the Team Creative Crafts Fall Edition, where I am joining several other craft bloggers to share fall crafts and a fun giveaway (a Cricut Joy bundle valued at over $200), so be sure to check out some of the other fall projects, and enter the giveaway below.


How to Crochet Bobble Stitch Pumpkins


You will need:
medium weight yarn in desired colors (samples made in Loops and Threads Impeccable in Green Lagoon, and Pumpkin)
G crochet hook
Polyfil stuffing
yarn needle
cinnamon stick, dowel, or stick
Instructions:
Bobble Stitch:
[yarn over, insert hook in stitch, yarn over and pull through, yarn over, pull through 2 loops] 4 times, you will now have 5 loops on the hook, yarn over, pull through all loops
Each pumpkin is made by first crocheting a long rectangle, then folding in half and seaming the short sides. Next you will cinch up the top and bottom and stuff to create the pumpkin shape. You can change up the dimensions of your pumpkin by changing the number of your starting chain (more chains will give you a taller pumpkin, less a shorter pumpkin), as well as changing up the number of rows you work (more rows for a fatter pumpkin, less rows for a skinnier pumpkin). Since the pattern is the same, just a different number of stitches I am only writing it out once, but will share how many starting chains and rows I used for the two different sizes I made.
Finished sizes:
Green Pumpkin - approximately 5" tall and 5" in diameter
Orange Pumpkin- approximately 4" tall and 6" in diameter
Pumpkin
Begin with an even number of ch
Green started with 26 ch (25 stitches in each row + 1 turning ch, each bobble row has 12 bobbles)
Orange started with 20 ch (19 stitches in each row + 1 turning ch, each bobble row has 9 bobbles)
Row 1: sc in second ch from hook and each stitch across
Row 2: ch 1, turn, sc in first stitch, [bobble in next stitch, sc in next] repeat to end
Row 3: ch 1, turn, sc in each st
Row 4: ch 1, turn, sc in each st
Row 5: ch 1, turn, sc in each st
Repeat rows 2-5 until you have the size you want, ending with a row 4, you should have 2 single crochet rows at the end and 1 at the beginning and when they are stitched together you will have the 3 rows of single crochet that are in between the bobble rows.
Green has 48 rows (12 repeats)
Orange has 56 rows (14 repeats)
Finish off and cut yarn leaving a long tail for sewing
Assembly
Bring the two short ends together and stitch together to make a circle
Weave the yarn around the bottom edge, like a running stitch, and pull tight to cinch closed. The bobbles make it really thick and it may not close completely so just get it as close as you can. Stitch in place to secure, and you can kind of stitch across to close up the opening even more if you want. Tie off yarn and cut.
With a new length of yarn repeat the same process along the top, but before you cinch it closed fill the pumpkin with stuffing. Cinch it up with a small opening in the middle big enough to insert your stem, and tie it off, tucking the ends into the pumpkin to hide.
Push the cinnamon stick/dowel/stick into the center of the pumpkin to make the stem.