-This post may contain affiliate links-
With Earth Day coming later this month I am joining a few of my blogging friends to bring you a bunch of recycled craft ideas, and the possibility to win an awesome prize. So join me for Creative Crafts- Recycled Crafts Edition, to get some fun ideas for recycled and upcycled projects you can make, and at the end of this post you enter to win a 10 lb box of Poly-Fil from Fairfield World and a $100 gift card to JOANN.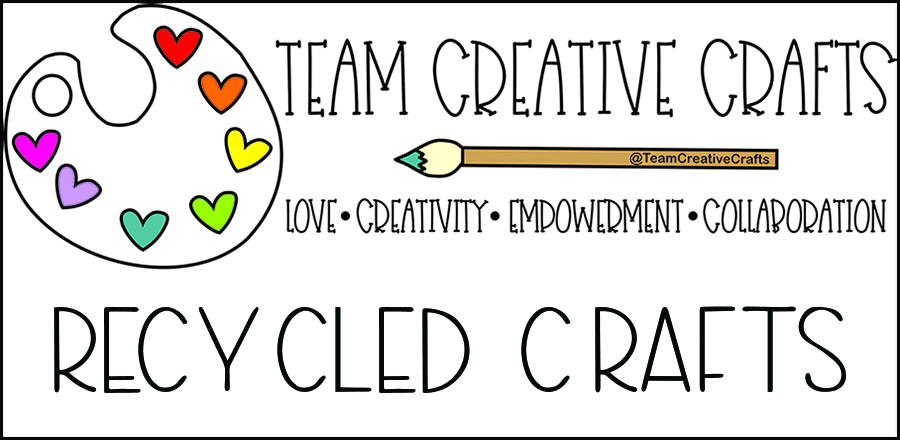 While trying to decide on a project I could make I was looking around my house, thinking about the things we throw away, and what I could use to turn into a fun craft project. Cardboard boxes, jars, cans, etc., and I had a few ideas, but wasn't totally loving any of them, but then I was down in my craft room and I saw a bunch of the tubes from my rolls of vinyl and decided that was what I was going to use.
The vinyl tubes are similar in size to a paper towel tube, but they are a lot thicker and sturdier. I only used one tube for my project, along with a little scrap of cardboard and some pretty paper, and turned it into a cute little desk organizer.
I cut the tube into 3 pieces of varying heights, then I wrapped them in some pretty paper. After that I glued them all together and then onto a circle of cardboard for a base.
The tubes aren't huge so you can fit a ton of stuff in them but they are perfect for holding a few pens and pencils, and some scissors. Or paintbrushes, markers, crayons, whatever you want! My tallest tube was 5" and I probably wouldn't go any taller than that, but you could definitely change up the sizes to hold different items. I think a little small one would be great for stuff like paperclips. You could also add more tubes to make a bigger organizer to hold more supplies.
How to Make a Recycled Cardboard Tube Desk Organizer
You will need:
leftover tubes from rolls of vinyl (1 tube will make the size I made)
small piece of cardboard
scrapbook paper in coordinating colors
craft knife
paper trimmer and/or scissors
tape runner
glue gun and glue sticks
Instructions:
Use a craft knife to carefully cut the tube into the lengths that you want. I used one 12" tube and cut it into 5", 4", and 3" sections.
Use a paper trimmer or scissors to cut strips of scrapbook paper the same width as the tube pieces (so mine were 5,4, and 3"). Wrap them around to see how long they need to be and trim, you want it to overlap a little but not a lot.
Once your paper strips are cut to size you are ready to glue them on. I used a permanent tape runner and just made sure I got close to the edges. Carefully wrap the paper around each tube, lining up the top and bottom edges.
Decide how you want the tubes arranged and glue them together with the bottom edges all aligned.
Cut a circle from a piece of cardboard large enough to fit all of the tubes. I just found something round that was large enough to fit and traced it (a large container of cleaning wipes), my circle was about 4" in diameter.
Cut a piece of paper the same size and use the tape runner to attach to the cardboard.
Use glue gun to attach the bottom of your tubes to the cardboard circle.
Enter Below to Win a 10 lb Box of Poly-Fil from Fairfield World and a $100 Gift Card to JOANN!