This shop has been compensated by Collective Bias, Inc. and its advertiser, Mars Wrigley Confectionery US, LLC. All opinions are mine alone. #SweeterEaster #CollectiveBias


I have been wanting to crochet an Easter Basket for a while, last year I even made one but finished it right before Easter and didn't have time to get it posted. So this year I wanted to make sure I got it done early enough to get it on the blog. As soon as Easter candy was out in stores I picked up some candy along with some Easter grass and plastic eggs and got to work.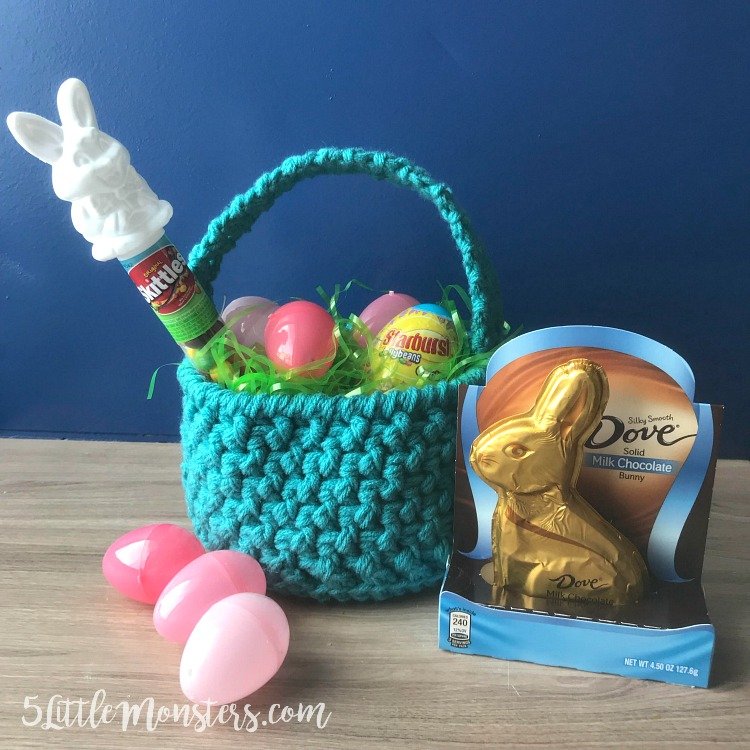 I wanted to get a chocolate bunny, since every Easter basket needs a chocolate bunny, and some other small treats too. I picked up a DOVE® Solid Milk Chocolate Bunny, a SKITTLES® $1 Bunny Tube, and a STARBURST® $1 Jellybean Egg. The gold foil bunny looks so pretty in the basket and with the SKITTLES® candies and STARBURST® Jellybean Egg being only $1 each they were perfect for putting in a basket. I picked up my candy at Walmart, you can find all of them there or you can click on the picture above to purchase the items on

Walmart.com

.
When I was choosing a stitch for my basket I knew I wanted a stitch that would give a woven look, similar to a basket weave. I decided on front and back post double crochet and I really loved the way it turned out.
I finished with a round of crab stitch around the top to give it a nice finished edge. Then I added a handle.
How to Crochet an Easter Basket
You will need:
1-2 skeins of worsted weight yarn

K crochet hook

yarn needle

scissors

Easter grass, eggs, candy, etc. to fiill the basket
Instructions:
To make the basket sturdier it is worked with 2 strands of yarn held together. You can either use both strands of yarn (pulling from center and outside) of one skein, or to keep things from getting tangled up you can use 2 skeins and pull one strand from each. Whichever way you choose you will hold those to strands together and work as one the whole time.
Begin with a magic ring, beginning ch 2 does not count as a stitch
Round 1: in mr ch 2, 10 dc, join to first dc with sl st (10 dc)
Round 2: ch 2, 2 dc in each stitch, join to first dc with sl st (20 dc)
Round 3: ch 2, [2 dc in first stitch, 1 dc in next] repeat around, join with sl st to first dc (30 dc)
Round 4: ch 2, [2 dc in first stitch, 1 dc in next 2] repeat around, join with sl st to first dc (40 dc)
Round 5: ch 2, [2 dc in first stitch, 1 dc in next 3] repeat around, join with sl st to first dc (50 dc)
Round 6: ch 2, dc in blo of each stitch, join with sl st to first dc (60 dc)
Round 7: ch 2, [fpdc in first stitch, bpdc in next] repeat around (30 fpdc, 30 bpdc)
Round 8: ch 2, [bpdc in first stitch, fpdc in next] repeat around (30 bpdc, 30 fpdc)
Round 13: ch 1, work crab stitch (reverse single crochet) around top edge, do not cut yarn
ch 1, work three sc in top edge behind the crab stitch (I just kind of found somplace to stick my hook on the inside of the basket edge)
repeat until you have reached the desired length, then stitch to the inside of the opposite side of the basket
Then all that is left is to fill you new Easter basket with all kids of fun goodies, Hop To It and head to

Walmart

to pick up some fun Mars and Wrigley candy to fill up your Easter basket, Easter will be here before you know it.