-This post may contain affiliate links-
Another month is here which means another collaboration with Team Creative Crafts. This month the theme is Birthday Party Crafts! As usual this means that there will be a fun giveaway (and if you like yarn as much as I do be sure to scroll down to check it out), and several crafts with a birthday party theme.
I'll be honest, I kind of had a hard time coming up with an idea for this one. I couldn't really think of anything I could crochet that would be birthday party themed (although I'm sure there are plenty of things that I could have done, just nothing that came to mind), and I just did a happy birthday banner a month or two ago, I thought about some cupcake toppers but couldn't come up with any great ideas there. It was just one of those times I was completely drawing a blank.
It is actually kind of funny that I had such a hard time coming up with a party themed idea because we just went through the busiest birthday season of the year in our family, 5 out of the 8 people in our family have birthdays in January-March.
I finally stared thinking about ideas of something that could be used as a party favor and ended up making some printable thank you tags for party favors. I made them so that they could be used by folding them over the edge of paper lunch sack, or similar sized bag. You could also cut off the excess folder portion at the top and just punch a hole and tie it onto any little treat bag. I thought it made for some inexpensive, but still cute, packaging for a birthday party favor.
Be sure to check out all of the fun birthday party crafts, and enter below to win a Red Heart Pom Pom and Tassel Maker and 8 Skein Rainbow Yarn Pack courtesy of Coats & Clark.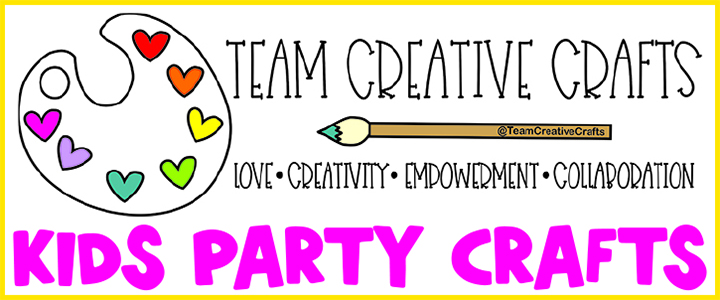 Printable Party Favor Thank You Tags & Favor Bags
You will need:
white cardstock
paper lunch sacks
hole punch
scissors
Instructions:
Print the
Party Favor Thank You Tags
on white cardstock. If your bags are smaller than a lunch sack, you may want to print them a little smaller than 100%.
Cut out the tags.
Fill your bag with treats or party favors.
Fold the top of the bag over once or twice to close.
Fold the tag along the faint dotted line.
Place the folded edge of the tag over the folded edge of the bag.
Punch two holes holes through all layers, there are light gray circles on the tag showing you where to punch.
Tie a string through the holes to secure.