-This post may contain affiliate links-
I cannot believe it is already May. This year seems to be flying by, but maybe that is just me. But a new month means another Team Creative Crafts collaboration. I really enjoy these challenges because it forces me to come up with something that I would probably not otherwise think to do. This month's theme is Tie Dye.
I have done a few tie dye projects on my blog before and I really wanted to try something I hadn't done before. A new type of dying or a new something that I hadn't dyed before. I have
tie dyed pillows
,
onesies
,
masks
, and
scrunchies
, so I didn't really want to do any of those.
I have always thought the patterns of Shibori dying looked really neat, so the project I decided on was tie dyed swaddle blankets inspired by Shibori dying.
Shibori is an indigo dying technique from Japan uses certain types of folds, binding, and wrapping to create designs on fabric. Because it is typically done with indigo the designs are usually a deep blue color and they are also usually submerged in the dye, vs. tie dye where it is typically squirted onto the fabric you are dying.
There are some types of folds and wraps that are commonly used with Shibori dying that create the patterns and designs often associated with that type of dying. I am not an expert but there are a few designs that I know I often associate with the style.
I chose 4 different designs to try for the swaddle blankets I made. The first style that I wanted to try was a shape resist. This is probably the number one style that I associate with Shibori. It creates white spaces, typically squares, all over the item you are dying creating a grid like design. It is created by folding the fabric in an accordion style both ways into the shape you are using, in my case a square, and then using a piece of wood on each side and rubber banding or tying that down on each side to prevent the dye from dying those sections. I
Another design I wanted to try, that ended up being my least successful, was pole wrapping. In this technique the fabric is wrapped around a pole and tied with string and then scrunched down. It should create a sort of scrunched striping across your fabric. Mine didn't turn out great and I will share more of what I think went wrong in the instructions.
I tried a triangle fold similar to the shape resist but without the wood. And the last style I chose was rings, which is a design I have done before with tie dyed projects. This is where you just grab some small sections of fabric and rubber band or tie them off to create white rings on your fabric.
It was fun to try some new techniques. There are things I learned and would do differently next time, and things that turned out very much how I was expecting. I think one of the fun things about tie dye is that you never really know exactly how it is going to turn out until you rinse it out and wash it. You just kind of have to trust that whatever you end up with will look neat, even if it isn't exactly what you pictured when you were making it.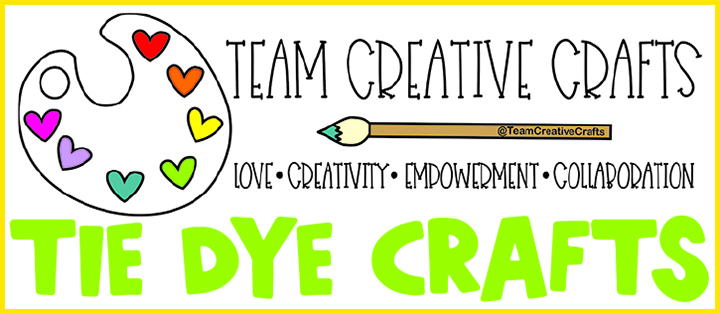 As always with these collaborations there is a giveaway, this time for a Tulip Tie Dye Kit with everything you need to have your own tie dye party! There are also several other fun tie dye projects so be sure to check them out.
Laura from Me and My INKlings has created a bright and colorful Rainbow Tie Dye Tote Bag
Smitha from Smiling Colors is sharing How to Throw a Tie Dye Party, perfect for Summer
Shani from Sunshine and Munchkins has created a rainbow Tie Dye Banner
Laura from Laura's Crafty Life has a full tutorial on How to Tie Dye Tote Bags
Justine from Little Dove has created a reusable Tie Dye Fabric Wrapping Paper
Erica from 5 Little Monsters is sharing Shibori Inspired Tie Dye Swaddle Blankets
Kelsey from Poofy Cheeks has created a Tie Dye Sublimation Tumbler for Mom


How to Make Shibori Inspired Tie Dye Swaddle Blankets
You will need:
Instructions:
Getting Started
You will want to start out by getting all of your blankets damp.
Also add water to your dyes so that they are ready to use, Make sure to shake them well. I used one bottle of dye for each of the blankets, except the rings which took two bottles.
Design 1- Square Shape Resist (Black Blanket)
For this design you will need some rubber bands and 2 pieces of wood in the shape you are making, in this case a square. I used some square wood coasters that I had that were about 4" square.
Fold your damp blanket back and forth accordion style to make a long strip a little wider than the wooden squares you are using. I made my strip about 6" wide so there was about an inch of overhang on each side.
Then fold accordion style again to turn that strip into a square.
Next place one wood piece on the top and one on the bottom and rubber band into place so they are secure. Squirt the tie dye all over the edges so that they are fully saturated.
Place in a ziplock bag or wrap in plastic wrap and let set for 6-8 hours.
Design 2- Pole Wrap (Purple Blanket)
This was probably the least successful of the designs that I tried and I think there were a couple of reasons for that. Half of my blanket didn't really end up dyed, the part on the inside that was closest to the pole. I think part of the reason for this is that my pole was a little too small for the blanket I was using. I had a broken broom handle that I thought would work but it was kind of skinny and short so it was hard to wrap the blanket around it. Also, I think that this particular style would work best being dyed in a pot of dye (although the long pole may make that a bit of a challenge). I don't think I was able to saturate the fabric quite enough with the dye that I used, maybe if I had used a second bottle it would have soaked in further and dyed more of the blanket.
To make this design you will need a pole or piece of pvc pipe and string.
Wrap your damp blanket diagonally around the pole.
Tie at one end to secure and then wrap your string around the blanket. After a few wraps of the string scrunch the blanket towards the end of the pole. Continue until the whole blanket is wrapped and scrunched around the pole. Tie off the other end to secure.
Squirt dye all over the blanket to saturate. I used one bottle of dye for this design but like I said above, I think that more dye may have helped this one be more successful so I would recommend two of the small bottles of Tulip tie dye for this style.
Place in a ziplock bag or wrap in plastic wrap and let set for 6-8 hours.
Design 3- Triangle Fold (Blue Blanket)
For this design you only need rubber bands.
Begin the same way as the square design, by folding your blanket back and forth accordion style into a long strip. I made my strip pretty wide and honestly, I think it was a little too wide and made it so the triangle design didn't show up as well. If I were to do it again I would keep it pretty small, maybe 6-8" wide.
Next fold the strip accordion style into triangles, fold one corner forward, then the flat edge back, all the way dow the strip until you end up with a triangle shape at the end.
Now wrap a rubber band on each of the three corners to secure the shape in place, but try not to squish them too much.
Squirt dye all over the triangle.
Place in a ziplock bag or wrap in plastic wrap and let set for 6-8 hours.
Design 4- Rings (Teal Blanket)
For this design you only need rubber bands.
Pinch up sections of fabric randomly all over the blanket and secure each one with a rubber band.
Saturate your fabric with dye.
Place in a ziplock bag or wrap in plastic wrap and let set for 6-8 hours.
Finishing
Once the dyed pieces have set for several hours (I let mine sit overnight), take them out of the plastic and rinse until the excess dye is rinsed out.
Wash in hot water and dry to set the dye.