-This post may contain affiliate links-
The beginning of a new month means time for a Team Creative Crafts Collaboration, and this month the theme is Handmade Gift Wrap. It is always kind of fun to have a specific theme that I am challenged to come up with a project for.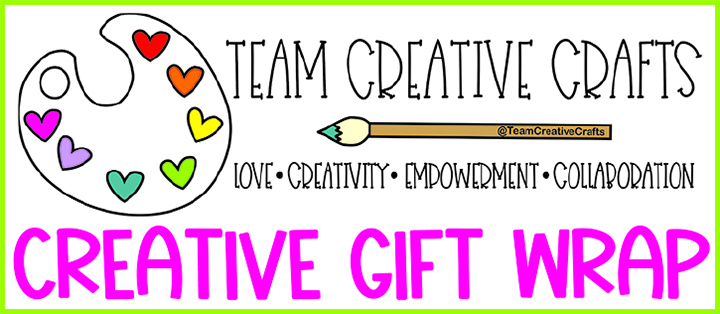 Over the last couple of weeks I have been transitioning to Christmas crafting behind the scenes so it is kind of fun to start sharing them, although I do still have a couple of Thanksgiving projects left to share.
When I was thinking of what I could make for the theme of handmade gift wrap one of the first things to come to mind was a gift card holder. I thought that the little stockings in my stocking advent calendar could be easily modified to make big enough to fit a gift card.
It works up really fast so it would be easy to make up a bunch of them. And if you don't want to put a gift card in them, they are really just a tiny stocking so you could put a few little pieces of candy or anything else you want. Or just use it as a Christmas ornament to hang on the tree.
Don't forget to go check out all of the other handmade gift wrap crafts being shared today-
Laura from Me and INKlings has created the most adorable Felt Gift Card Holder with a pocket for the card AND a pocket for a little surprise as well!
Did you ever wonder How to Wrap Gifts with Fabric instead of paper? Well, Smitha from Smiling Colors has a fun tutorial complete with hand lettered gift tags!
Justine from Little Dove is sharing How to make an English-style Christmas Cracker your guests will love! Perfect for all your parties this holiday season.
Learn how to make a Crocheted Stocking Gift Card Holder from Erica at 5 Little Monsters. We love that she always includes the step-by-step patterns!
Katie the Crafty Blog Stalker will teach you how to make Personalized Santa Sacks with a Free SVG file! Perfect for all the kiddos on your Christmas List.
Create Personalized Gift Bags this holiday season with a complete step-by-step tutorial from Chelly at We Can Make That!
Beth with Creatively Beth is sharing three ways to create DIY Handmade Wrapping Paper with Tombow Dual Brush Pens.
Learn how to make Free Printable Paper Bows with her exclusive downloadable file from Lindsay at Artsy Fartsy Mama – BRILLIANT!
How to Crochet a Stocking Gift Card Holder
Finished size: about 5" tall x 3" across opening
You will need:
Instructions:
Color A: main color (Claret)
Color B: heel and cuff (White)
The stocking begins with a magic ring and is worked in double crochet stitches, the beginning chain 2 does not count as a stitch
The heel is worked back and forth in rows of single crochet. For help understanding how the heel is worked you can watch the video below on how to make the heel on my advent stockings, the stitch counts will be different but the method is the same
The cuff is worked in alternating front and back post double crochet stitches.
Stocking
Begin with color A, with a magic ring
Round 1: in mr, ch 2, 10 dc, sl st to first dc to join (10 dc)
Round 2: ch 2, 2 dc in each st, sl st to first dc to join (20 dc)
Round 3: ch 2, 1 dc in each st, sl st to first sc to join (20 dc)
Round 4: ch 2, 1 dc in each st, sl st to first sc to join (20 dc)
change to color B, you will begin working back and forth in rows across half of the stocking to make the heel
Heel Row 1: ch 1, sc in 12 sts
Heel Row 2: ch 1, turn, sc2tog, sc in next 8, sc2tog (10 sc)
Heel Row 3: ch 1, turn, sc2tog, sc in next 6, sc2tog (8 sc)
Heel Row 4: ch 1, turn, sc2tog, sc in next 4, sc2tog (6 sc)
Heel Row 5: ch 1, turn, sc2tog, sc in next 2, sc2tog (4 sc)
Heel Row 6: ch 1, turn, sc2tog twice (2 sc)
Heel Row 7: sl st to the side of the stitch from the previous row, ch 1, turn, sc in sl st, sc in each sc across, sc in side of the previous row (4 sc)
Heel Row 8: sl st to the side of the stitch from the previous row, ch 1, turn, sc in sl st, sc in each sc across, sc in side of the previous row (6 sc)
Heel Row 9: sl st to the side of the stitch from the previous row, ch 1, turn, sc in sl st, sc in each sc across, sc in side of the previous row (8 sc)
Heel Row 10: sl st to the side of the stitch from the previous row, ch 1, turn, sc in sl st, sc in each sc across, sc in side of the previous row (10 sc)
Heel Row 11: sl st to the side of the stitch from the previous row, ch 1, turn, sc in sl st, sc in each sc across, sc in side of the previous row (12 sc)
Change to color A
Round 5: ch 2, dc in each st (both sc from last heel row and unworked dc from round 4), sl st to first dc to join (20 dc)
Round 6: ch 2, 1 dc in each st, sl st to first sc to join (20 dc)
Round 7: ch 2, 1 dc in each st, sl st to first sc to join (20 dc)
Change to color B
Round 8: ch 2, 1 dc in each st, sl st to first sc to join (20 dc)
Round 9: ch 2, [fpdc in first st, bpdc in next] repeat around (20 dc)
Finish off, weave in ends