-This post may contain affiliate links-
We have spent the last couple of weeks getting all of the last minute back to school stuff done because our kids start next week. In some ways it is crazy to think that summer is over, but I am also excited to get back into the routine of the school year. It has been a crazy couple of weeks taking each of the kids shopping for clothes and supplies, going to orientations and registrations days, checkups and kindergarten shots, all of the stuff it takes to get 6 kids ready. But I think we are finally there and it is crazy to think that next week all 6 kids will be in school and for the first time in almost 15 years I won't have any kids home with me during the day.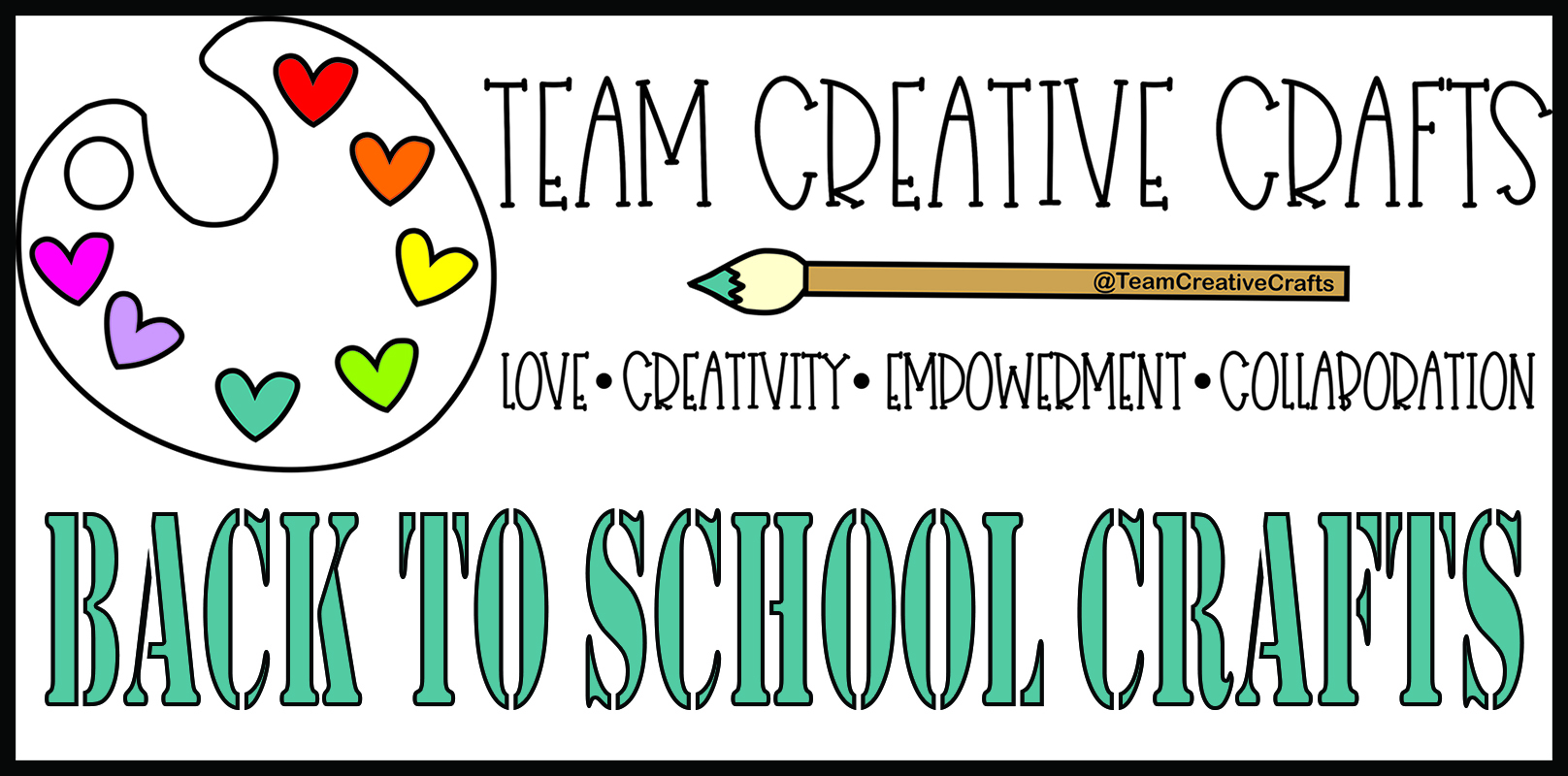 Today's post is part of the Creative Crafts Back to School Edition. This series is hosted by Me and My INKlings, Creatively Beth, and Bella Crafts Publishing. They bring together a bunch of crafters to share craft projects on a specific theme over the course of a couple of days, and there is a giveaway! Scroll down to the bottom of the post to enter to win an Amazon gift card.
I have always loved school supply shopping, even if it does get a little crazy with lots of kids in different schools. There is just something about blank notebooks, and new pens, pencils, and crayons that is so fun.
I thought it would be fun to turn some of those school supplies into crocheted amigurumi, a pencil, a colored pencil, and a crayon. Actually, I only planned to make a pencil but as I was finishing I thought, I could use the same pattern to make colored pencils so maybe I will make one of those just to show another option, then I figured I could change up the coloring a little more and make a crayon so I made one of those too.
They are all three made from the exact same pattern, just the color changes are different, and the stitches in the gray section on the pencil are worked in the back loop to give the ridged texture on the metal part of the pencil, but on the other two those rows are just normal single crochet stitches.
They are only about 6 inches tall so they are really quick to make. And they are great for using up small balls of yarn because you could literally make them in any color.
How to Crochet Amigurumi School Supplies
Finished Size: approximately 6" tall
You will need:
worsted weight yarn in desired colors, I used Red Heart Super Saver for everything except the pink pencil which was Loops & Threads Impeccable

Pencil- You need black, tan, yellow (or other main color), gray, and pink (Sample used Red Heart Super Saver in Black, Buff, Saffron, Gray Heather, and Petal Pink)
Colored Pencil- You need tan and your main color (Sample used Red Heart Super Saver in Buff, and Loops & Threads Impeccable in Lippy)
Crayon- You need a 2 shades of your main color and black (Sample Used Red Heart Super Saver in Royal, Light blue, and black)

G crochet hook
PolyFil Stuffing
yarn needle
scissors
Instructions:
The pencil, colored pencil, and crayon are all made with the same pattern, with just a few color changes in different places, but to make I easier to explain the color changes I am going to write out each pattern individually.
Pencil
Begin with black yarn and use a magic ring
Round 1: in mr ch 1, 6 sc (6 sc)
Round 2: [2 sc in first st, 1 sc in next] repeat around (9 sc)
Round 3: [2 sc in first st, 1 sc in each of next 2 stitches] repeat around (12 sc)
Round 4: change to tan yarn, [2 sc in first st, 1 sc in each of next 3 stitches] repeat around (15 sc)
Round 5: [2 sc in first st, 1 sc in each of next 4 stitches] repeat around (18 sc)
Round 6: [2 sc in first st, 1 sc in each of next 5 stitches] repeat around (21 sc)
Round 7: [2 sc in first st, 1 sc in each of next 6 stitches] repeat around (24 sc)
Round 8: [2 sc in first st, 1 sc in each of next 7 stitches] repeat around (27 sc)
Round 9: [2 sc in first st, 1 sc in each of next 8 stitches] repeat around (30 sc)
Round 10: change to yellow yarn, 1 sc in each st (30 sc)
Round 11-19: 1 sc in each st (30 sc)
add safety eyes between rounds 14 and 15, embroider mouth below the eyes, begin stuffing and continue to stuff as you finish crocheting
Round 20: change to gray yarn, 1 sc in each st (30 sc)
Round 21: 1 sc in blo of each st (30 sc)
Round 22: 1 sc in bio of each st (30 sc)
Round 23: change to pink yarn, 1 sc in each st (30 sc)
Round 24-26: 1 sc in each st (30 sc)
Round 27: work all stitches in this round in the back loop only, [sc2tog, 1 sc in next 3 stitches] repeat around (24 sc)
Round 28: [sc2tog, 1 sc in next 2 stitches] repeat around (18 sc)
Round 29: [sc2tog, 1 sc in next st] repeat around (12 sc)
Round 30: sc2tog around (6 sc)
Finish off, stitch opening closed and weave in ends
Colored Pencil
Begin with colored yarn and use a magic ring
Round 1: in mr ch 1, 6 sc (6 sc)
Round 2: [2 sc in first st, 1 sc in next] repeat around (9 sc)
Round 3: [2 sc in first st, 1 sc in each of next 2 stitches] repeat around (12 sc)
Round 4: change to tan yarn, [2 sc in first st, 1 sc in each of next 3 stitches] repeat around (15 sc)
Round 5: [2 sc in first st, 1 sc in each of next 4 stitches] repeat around (18 sc)
Round 6: [2 sc in first st, 1 sc in each of next 5 stitches] repeat around (21 sc)
Round 7: [2 sc in first st, 1 sc in each of next 6 stitches] repeat around (24 sc)
Round 8: [2 sc in first st, 1 sc in each of next 7 stitches] repeat around (27 sc)
Round 9: [2 sc in first st, 1 sc in each of next 8 stitches] repeat around (30 sc)
Round 10: change to colored yarn, 1 sc in each st (30 sc)
Round 11-26: 1 sc in each st (30 sc)
add safety eyes between rounds 14 and 15, embroider mouth below the eyes, begin stuffing and continue to stuff as you finish crocheting
Round 27: change to tan yarn, work all stitches in this round in the back loop only, [sc2tog, 1 sc in next 3 stitches] repeat around (24 sc)
Round 28: [sc2tog, 1 sc in next 2 stitches] repeat around (18 sc)
Round 29: [sc2tog, 1 sc in next st] repeat around (12 sc)
Round 30: change to colored yarn, sc2tog around (6 sc)
Finish off, stitch opening closed and weave in ends
Crayon
Begin with darker color yarn and use a magic ring
Round 1: in mr ch 1, 6 sc (6 sc)
Round 2: [2 sc in first st, 1 sc in next] repeat around (9 sc)
Round 3: [2 sc in first st, 1 sc in each of next 2 stitches] repeat around (12 sc)
Round 4: [2 sc in first st, 1 sc in each of next 3 stitches] repeat around (15 sc)
Round 5: [2 sc in first st, 1 sc in each of next 4 stitches] repeat around (18 sc)
Round 6: [2 sc in first st, 1 sc in each of next 5 stitches] repeat around (21 sc)
Round 7: [2 sc in first st, 1 sc in each of next 6 stitches] repeat around (24 sc)
Round 8: [2 sc in first st, 1 sc in each of next 7 stitches] repeat around (27 sc)
Round 9: [2 sc in first st, 1 sc in each of next 8 stitches] repeat around (30 sc)
Round 10: 1 sc in each st (30 sc)
Round 11: change to lighter color yarn, 1 sc in each st (30 sc)
Round 12: 1 sc in each st (30 sc)
Round 13: change to black yarn, 1 sc in each st (30 sc)
Round 14:change to lighter color yarn, 1 sc in each st (30 sc)
Round 15-21: 1 sc in each st (30 sc)
add safety eyes, embroider mouth below the eyes, begin stuffing and continue to stuff as you finish crocheting
Round 22: change to black yarn, 1 sc in each st (30 sc)
Round 23: change to lighter color yarn, 1 sc in each st (30 sc)
Round 24: 1 sc in each st (30 sc)
Round 25: change to darker color yarn, 1 sc in each st (30 sc)
Round 26: 1 sc in each st (30 sc)
Round 27: work all stitches in this round in the back loop only, [sc2tog, 1 sc in next 3 stitches] repeat around (24 sc)
Round 28: [sc2tog, 1 sc in next 2 stitches] repeat around (18 sc)
Round 29: [sc2tog, 1 sc in next st] repeat around (12 sc)
Round 30: sc2tog around (6 sc)
Finish off, stitch opening closed and weave in ends