-This post may contain affiliate links-
It is time for another edition of Creative Crafts. This month the theme is Last Minute Holiday Crafts. I have to admit when I saw that was the theme for this month my first thought was that it isn't last minute yet, it will just be the beginning of December. Then I realized Christmas is just barely over 2 weeks away. With all of the school events, holiday parties, presents to get, and everything else there is to do between now and then it is definitely feeling like we are reaching the last minute part of the holidays.
I wanted to choose a super easy craft that would not take much time at all, since that what "last minute" means to me when crafting, super simple, easy to make, and fast. I had a stack of Christmas paper that I had gotten for another project and thought it would be perfect for this quick Christmas craft.
I made folded paper Christmas ornaments. They are made by cutting out several matching shapes (I used between 6-9 depending on the ornament) and then folding them in half and gluing the pieces together. This creates a sort of 3D ornament with flat pieces of paper.
To make this project even easier I used my Cricut to cut and score all of the shapes. However, you can definitely make this project without a Cricut or other cutting machine. All you need is some paper, a way to cut it, glue, and a shape that is symmetrical so that when you fold it in half it matches up.
I chose a variety of different shapes for my ornaments, but if you are cutting them by hand rather than using a cutting machine I would stick with a really simple shape like a circle. These ornaments are very quick and easy to make, and are great for a variety of skill levels, you could even make them with kids.
Be sure to go and check out all of the other Last Minute Holiday Crafts being shared today and tomorrow. And as usual there is a giveaway! Scroll down just a little bit more for all of the giveaway details and to enter.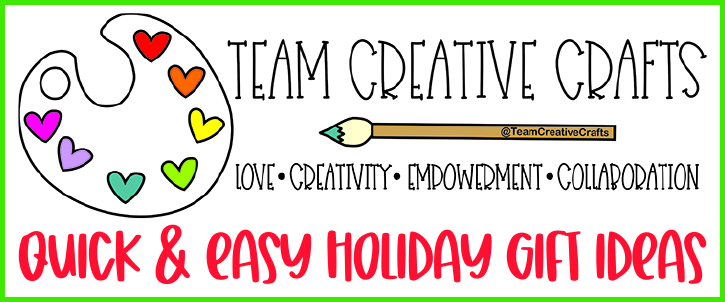 Tiny Wooden Rainbow Houses by Laura of Me and My Inklings
Candy Cane Wreath for the Holidays by Laura of Laura's Crafty Life
Colorful Holiday Gift Card Holders by Smitha of Smiling Colors
DIY Clay Christmas Ornaments by Kimberly of Crafting Cheerfully
Hot Cocoa Mix in a Jar with Free Printable Tag by Shani of Sunshine & Munchkins
Folded Paper Christmas Ornaments by Erica of 5 Little Monsters
Festive Dried Orange Slice Garland by Justine of Little Dove
Alcohol Ink Christmas Ornaments by Kelsey of Poofy Cheeks
Enter below to win a Sculpey Polymer Clay Prize Pack!
How to Make Folded Paper Ornaments
You will need:
Paper in one print for each ornament ( I used an 8x10 paper pad of Christmas Plaids, 1- 8x10 sheet for each ornament)
string
tape runner or glue stick
Either
a template of the shape you want
scissors
Instructions:
If you are using another cutting machine or want to make your own design rather than use one of mine, you will want to start with a simple shape, make it the size that you want, then add a score line exactly in the middle of the shape. You can see in the picture below what this looks like.
If you are cutting out your designs with scissors you want make a template for a simple shape that is symmetrical. If you can score it down the middle that will make it easier to fold exactly in half. Just make sure it is exactly in the middle.
Once you have your design ready to cut, whichever way you are doing it, cut out the designs. You will want 6-9 identical cutouts of each shape. I just started with as many as I could fit on one sheet of paper, then used as many of those as I liked for each shape.
Fold them along the center. The score line really helps with folding them exactly along the center.
Add glue or tape runner to one half of one cutout, then stick one half of another cutout to it. Continue adding glue to one half and adding another paper until you have as many as you want. While you are gluing the pieces together you can glue in a string in-between a couple of the layers to use as a hanger.
When you have all of the papers glued together bring the first and the last papers together and glue those halves together. This will create your 3D shape.
If you didn't glue a string in to make a hanger you can also add it at the end by wrapping it around the center of the folded ornament and tying at the top, then tying another knot a couple of inches up to make the loop.
Repeat the process with all of your shapes.