-This post may contain affiliate links-
I am so happy March is here. I know spring doesn't officially start for a couple more weeks, but once we make it to March it feels like spring is here. With a new month also comes a new Team Creative Crafts Collaboration and this month our theme was Spring and Garden. As with every month be sure to scroll down to see the other Spring and Garden crafts shared this week, and enter a fun giveaway!
For my project I decided to make some painted rocks. Painting rocks is a fun craft because it is something you can do with all ages. It can be fun for adults, but kids love it too. To go along with the spring and garden theme I thought it would be fun to paint flowers on my rocks.
There are lots of different options you can use when painting rocks, paints, paint markers, permanent markers, etc. For these rock designs I chose a combination of acrylic craft paints and a black paint marker. I used the paints to make the basic shapes of the flowers and then after they were dry I went in with the black paint marker and added outlines and details. They were super easy and fun to make.
Be sure to check out all of the spring projects and enter to win a Starbucks gift card and buttons from Button Jam!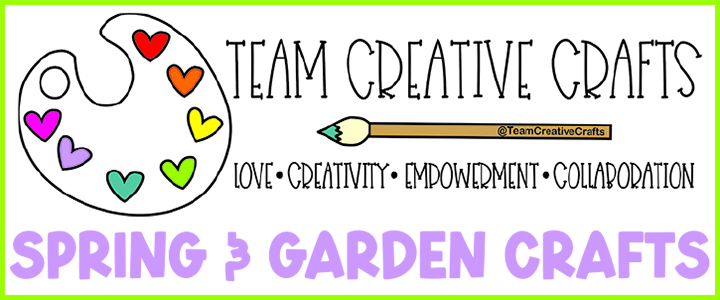 Laura from Me and My Inklings has created DIY Twine Flowers on a Wreath for Spring Décor
Smitha from Smiling Colors is sharing a tutorial How to Draw and Color a Butterfly
Shani from Sunshine and Munchkins has created Springtime Preschool Activity Pages
Laura from Laura's Crafty Life is sharing a set of Watercolor Inspired Garden Stickers
Justine from Little Dove Blog has created the sweetest DIY Fairytale Signpost for the garden
Erica from 5 Little Monsters is sharing a set of Flower Painted Rocks that are quick and easy
Kelsey from Poofy Cheeks has created Floral Front Door Décor Welcome Sign for Spring
a Rafflecopter giveaway
How to Make Flower Painted Rocks
You will need:
Smooth clean rocks
acrylic craft paints
paintbrushes
black paint pen
Instructions:
Begin by painting flower shapes on your rocks in the desired colors. Keep the designs simple, you can add details later. Choose rocks to fit the designs that you want, for example a larger round rock can be a bigger full flower like the pink one. A longer skinny rock can be a tall flower like the purple one.
Set the rocks aside to dry.
When the paint is fully dry go back in and add outlines and details to the rocks. Don't trace exactly around the shapes, but more of a loose outline.
Let dry.
Leave them like they are or spray with a sealant to protect your designs.