-This post may contain affiliate links-
How is it possible that it is already June? This year feels like it is absolutely flying by. Summer break is here, yesterday and today are my kids last days of school. It seems crazy that the year is almost half over. But with another year comes another Team Creative Crafts collaboration and this month the theme is pets/animals.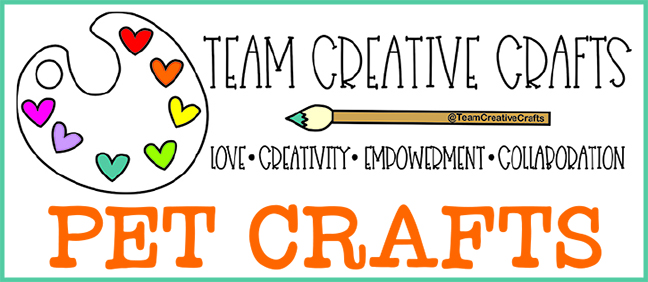 One of the things I enjoy about these collaborations is that they always challenge me a little bit to make something I may not have otherwise thought of, and this theme was definitely a bit challenging for me. The truth is I am not really a pet person. My kids have been begging us for years to get a pet, usually they ask for a dog, but I know cat and bunny have both been thrown out there as well, but I am just not a pet person. So when I saw the theme was pets I had no idea what I was going to do.
I immediately thought of crafts you could make for a pet, like pet beds, collars, dishes, stuff like that, and I had no idea where to even begin with something like that. Since I don't have a pet I don't really know what they need, how big to make stuff, or how to go about making something for them.
Then as I thought about the theme a little more I realized I could make a project about pets, not for them. I felt like that was something a little more in my wheelhouse. So I started coming up with ideas for that.
A couple of years ago I made a
farm animal finger puppet set
that included 4 farm animal finger puppets, and a little barn shaped drawstring bag to hold them. I decided to use that idea, but switch it up a little to fit with the pets theme.
Instead of a barn I turned the drawstring carrying bag into a little house, since that is where the pets live. Then I made 4 finger puppets in the shapes of animals that are common pets, a dog, a cat, a bunny, and a bird.
All of the finger puppets, in both sets, are made using the same base finger puppet pattern, with ears, faces, and other things added to turn them into animal. The bags are also made in the same way, just the details are a little bit different to turn it into a house.
Be sure to go check out all of the pets themed projects shared this week by Team Creative Crafts.
If you are looking for an easy sewing project,
Laura of Me and My INKlings
is sharing an
Over the Collar Pet Bandana
.
Perfect for puppies because it won't slide off their neck when they get rambunctious.
Laura of Laura's Crafty Life is sharing an amazingly thoughtful Rainbow Bridge Necklace with charms representing your pet. Perfect to make for yourself or give as a gift.
Let the kiddo's imagination run wild with Free Animal Masks to Print and Color. Hand-drawn by Beth of Creatively Beth, this trio of a dog, cat, and frog are free to download, print, and color.
Smitha of Smiling Colors is so talented and has created a tutorial on How to Draw a Dog. This would be a great way to spend a summer afternoon with the kiddos, learning new skills!
Tackle that summer reading list early with Punny Animal Bookmarks from Shani of Sunshine and Munchkins. This funny set will inspire the kiddos to read and are FREE to download.
Get the kiddos involved in summer crafting with their favorite Disney Animals as SVG Files to add to t-shirts. Justin of Little Dove has created these as a FREE download.
How to Make a Pets Finger Puppet Playset with House Drawstring Bag
You will need:
Small amount of worsted weight yarn in desired colors (this is a great pattern for using up small scraps in your stash, especially for the animals, I used mostly Red Heart Super Saver or Loops and Threads Impeccable)
yarn needle
scissors
embroidery floss
embroidery needle
Instructions:
The finger puppets are worked in a spiral, starting with a magic ring.
Each one starts with the same base body, then ears and/or wings are sewn on at the end.
The bag is worked in the round, joining each round.


Finger puppets are worked with G hook



Finger Puppet Body
With G hook, begin with magic ring

Round 1: in mr, ch 1, 6 sc (6 sc)
Round 2: 2 sc in each st (12 sc)
Round 3-10: 1 sc in each stitch (12 sc)


sl st to next stitch, finish off, weave in end



Cat
Make body in desired color (I used gray)


Make 2 ears:
ch2, sl st in ch closest to hook, sc in next
finish off, stitch onto head


Embroider face:
stitch eyes, small triangle nose, and mouth

with single strand of white embroidery floss stitch whiskers on each side of face



Dog
Make body in desired color (I used a light tan)


Make 2 ears:
ch 2, sc in each ch
finish off, sew onto side of head


Embroider face:
stitch eyes, nose, and mouth onto the front of the puppet



Bird
Make body in desired color (I used a speckled green)



Make 2 Wings:
in mr, ch 2, 2 dc, hdc, pull tail tight to close (do not join, you want a semi-circle shape)
Stitch wings to side of body
Feather Tuft (optional):
cut a piece of yarn a couple inches long, fold in half and use your crochet hook to pull the folded end through the top of the head, then pull the cut ends through the loop of the folded end and pull to make a larks head knot, trim the ends to the length you want and separate the yarn strands to create a little fluffy tuft on top of the head
Embroider face:
stitch eyes and a little triangle beak on the front
Bunny
Make body in desired color (I used white yarn)
Make 2 ears:
ch 6, sc in second ch from hook, hdc in next 2 sts, sc in last 2 sts
finish off, sew onto top of head
Embroider face:
embroider eyes, nose, and mouth to front of the puppet
House Bag
The bag is made with an H hook, it is worked in the round by working along both sides of your starting chain, you will join at the end of each round
The bag is made in one piece, the door and windows are made separately and sewn on at the end


Bag:
Begin with the main color of the house (I used a light yellow)
ch 21
Round 1: sc in second ch from hook, sc in each of next 18 ch, work 3 sc in last ch turning so you can work down the other side, sc in next 18 ch, 2 sc in last stitch, join to first sc with a sl st (42 sc)
Round 2-15: ch 1, sc in each stitch around, join to first sc with sl st (42 sc)


switch to roof color (I used a light brown)
Round 16-17: ch 1, sc in each stitch around, join to first sc with sl st (42 sc)
Round 18: ch 3 (counts as first dc), dc in next stitch, ch 1, skip next stitch, [dc in next 2 stitches, ch 1, skip next stitch] repeat around, join with sl st to first dc (28 dc, 14 ch spaces)
Round 19: ch 1, sc in each stitch, join with sl st to first sc (42 sc)

finish off, weave in ends


Drawstring:
with roof color




ch 60, or long enough to fit around the top of the bag with a little extra, weave one end through the ch spaces from round 18, join ends to make a loop, finish off, weave in ends
Door:
make 1 in desired color (I used blue)
ch 7
Row 1: sc in second ch from hook and each ch to the end (6 sc)
Row 2-10: ch 1, turn, sc in each st (6 sc)
Finish off and cut yarn leaving long tail for sewing
use a contrasting yarn (I used a yellow/gold) to make a French knot for the doorknob on one side of the door
Windows:
Make 2 in desired color (I used white)
ch 5
Row 1: sc in second ch from hook and each ch to the end (4 sc)
Row 2-4: ch 1, turn, sc in each st (4 sc)
Use contrasting color to stitch lines on the windows to make the window panes (I used the same blue as the door)
Assembly:
Stitch the door and windows to the front of the drawstring bag, weave in all ends